What is Success ?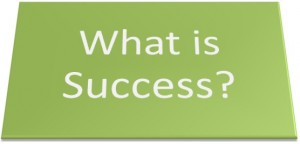 Your life at the end, not only measure by what you achieved, but also measure in what you become in life. What good things you do to others, and what positive impacts you have on others life, and how you help to others?
What is success? I am finding and looking for the answer, when I start to write a success letter. But it's a process and it takes time to find answers. And every lesson in life has a price. Your price might vary according to your lessons. So, be ready with your price. I personally believe that two types of success in the nature.
1) Success of Achievements
2) Success of Becoming
1)  Success of Achievement:
You can set a goal, and achieve it within your time frame, that gives you a success, but it's limited in terms of your life. You can set a goal like your financial goal, service goal, education goal, you can set anything and achieve anything, if you decide to achieve it and you convince yourself and dedicate yourself to your plan or work. Success of achievement has 4 steps Think, Goal, Plan and Action. You must think about your goal every time, you must think what you want in life. Your thinking decides who are you in life? Set your goal and structure your plan related to your goal, you can plan your strategies and work on your strategies. Action is must for every success. Without your action nothing can happen.
It's a success of achievement, what other achieve before you. You can copy that system and achieve it.
2) Success of Becoming.
Why people are unsatisfied, unhappy after having all achieved in life. Because they got only success of achievement, buy they forget about the success of becoming. The success of becoming is a huge subject and it's bigger and dipper than just success of achievement. Nobody in the world can copy your success of becoming. So let's understand the success of becoming. Becoming means, whatever you do, whatever you read, and whatever you are today, you must adapt all the positive changes in your life, you ultimately become great as compare to last year.
The formula is simple
Whatever you do => Adapt the change => You become great     
But by following above formula you must have your values, your ethics, your knowledge and your principal at work. Don't do wrong things in life at all, if you do wrong things in life, ultimately wrong happens to you.
So, adapt good in life, and change yourself according to the good things in life.
It's a great journey to be a part of success of becoming.
You must be the change you wish to see in the world.
—Mahatma Gandhi
Remember the last line.
"Your success is not measured in terms of what all you obtained but in terms of what you become, how you live and what actions you do. Upon this point reflect well and attain great happiness".  Swami Vivekananda
To Your Success of Becoming
Harish S Kawalkar
PS: Don't miss, reading success letter, be ready to learn new things and become more successful in life. Sign up! For "The Success Letter" http://eepurl.com/E2poT (It's Free)
Copyright © 2014 All rights reserved