Reveled! one tool for personal & business growth
Reveled! one tool for personal & business growth
(SWOT)
I learn this tool, when I was a student of business management, from these days I am using this tool for my personal development.
All successful people and business houses develop and work hard on this tool. You cannot achieve success without this tool. It's a basic model of success, lot of people know about this tool but knowing is not enough you have to plan and take action on this tool.
Every professional, self-employed, salaries and business required this tool for achieving success. This tool will help you in move towards the right direction.
The tool is SWOT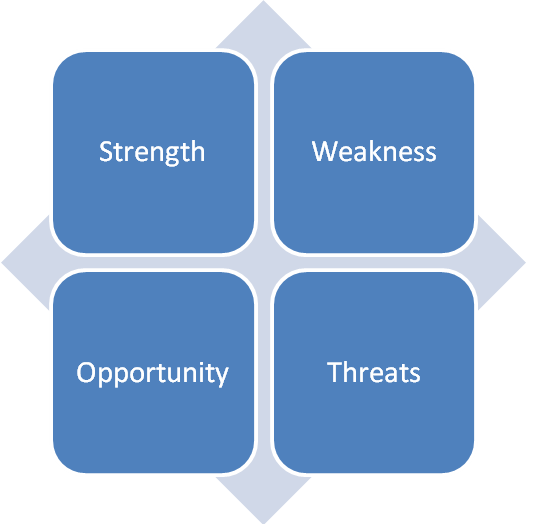 S= Strength
W= Weakness
O= Opportunities
T= Threats
Let us study one by one
Each and every one has its own SWOT. Business also has its own SWOT, but business takes professional help. They have products, services, brand, production, logistics, etc… All operation of business you can divide into SWOT and work very hard on that.
Strength
Have you know, what your strength is? You don't know, Think about your strength & write it down immediately. In personal development your strengths are different from your business strength. Your communication, hard work, reading, social activities, etc are your strength
You have to capitalize on your strength, and take maximum benefit in achieving your goal. If you have strength of participating in social activities you have to take maximum advantage of social activity by building relation with people.
You can build your strength, and use this strength in to your personal success and business.
What you really do well? If you know, this is your strength.
Weakness:
Successful people know their weakness, they don't highlight their weakness but they work very hard on weakness. Successful people develop their weakness into strength. You don't have to capitalize or take advantage of your weakness but you have to develop your weakness into strength.
There is no shame of having weakness; every person has its own weakness. But you have to minimize your weakness and develop weakness into strength.
In personal development weakness are internal, you cannot blame your circumstances as a weakness you have abundant capacity to transfer your weakness into strength.
Opportunity:
Opportunities are external and you can take advantage of. If you have very good friend, and he is successful in sales, you can learn sales techniques, skills which will help you in your career. Free seminar on personal development is also opportunity.
You don't have to wait for opportunity; you have to find the opportunity, because opportunities are lot if you have a capacity to search it.
While studying successful people, I find one thing. Successful people find opportunities within themselves. They find external opportunity but they focus on internal opportunity. If they know the opportunity they work on it and develop opportunity into strength.
Successful people use all available resources to find opportunity. You can build or take advantage of resources which will improve your chances of success.
Threats:
Threats are those things which will decrease your success rates. Threats might be plan; in business threats are always planed. But you have to identify the threats to deal with it.
In personal development, you can't avoid threats by just looking, and worry about your threats.
Successful people know their threats; they study and plan to minimize the potential threats. If you avoid your weakness, those weaknesses over the period of time will convert into threats.
Successful people develop different kind of skills, because skills are only weapon to deal with threats.
So, in summary
Strength:   You have to capitalize or take advantage.
Weakness: you don't have to highlight it.
But you have to work on it.
Convert your weakness into strength.
Opportunity: You have to find it externally.
Successful people find it internally.
Convert your opportunity into your strength.
Threats: You have to minimize your strength.
Develop new skills to minimize threats.
Analyze your own SWOT and work on it for maximum success.
Best luck for your SWOT!
To Your Success
Harish S. Kawalkar
PS: If you find value in "The Success Letter". Just sign up on home page (Its Free) 
Copyright © 2013 All rights reserved