Persistence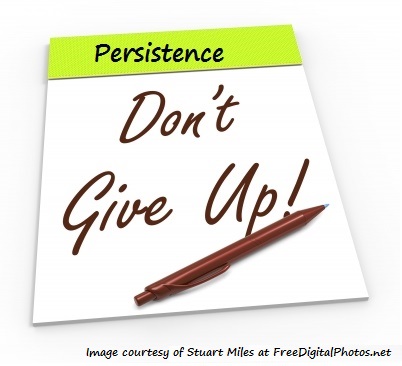 "Persistence is your ability to persist in the face of tough times and failures, is the measure of your self- beliefs and your burning desire to succeed"
Persistence is the DNA of Success, The most important strength and asset you can capitalize on. The important quality, which separates successful people from failure, no matter of having other strengths.  Persistence is the only quality which will help you in tough and bad times of your life.
If you have combination of persistence and self discipline in action is a definite way of your ultimate great success.
Every great success is a product of persistence and self discipline no matter of what are the tough and bad situations around you. You will become unstoppable if you mix persistence and self discipline in action; it's a great combination of ultimate success.
Never give Up:
Never give up, it's your willingness to have one more action when you are near to failure, no matter the circumstances. Don't surrender to your situations, fight one more time and have courage in your action.
"To succeed, you must have tremendous perseverance, tremendous will. 'I will drink the ocean,' says the persevering soul; 'at my will mountains will crumble up.' Have that sort of energy, that sort of will; work hard, and you will reach the goal." Swami Vivekananda
You need to spend more time with your bad situation fight each and every moment.
When you have your plans and goals and hold it on with determination and act with persistence, you will find nothing in the world that can stop you. Your goals of ultimate success become realities.
"Nothing in the world can take the place of persistence. Talent will not; nothing is more common than unsuccessful men with talent. Genius will not; unrewarded genius is almost a proverb. Education will not; the world is full of educated derelicts. Persistence and determination alone are omnipotent." Calvin Coolidge
As per the Calvin Coolidge, Persistence cannot be replaced by anything. Persistence and Determination can't be replaced by, Talent, Genius & Education.
Make a list of difficulties and problems that you are fighting with, and remind yourself "It's not over until I win" if you cultivate this attitude you will have great success in life. you must prepared yourself in advance that nothing will stop you, not your de-motivation, not your circumstance, remind yourself that you never give up, you never quit !
No one can stop you, but yourself. Go for glory, it's your life, it's your time, it's once in a life time make it big, don't stop, and make the difference.
 "Success is the child of drudgery and perseverance. It cannot be coaxed or bribed; pay the price and it is yours." – Orison Swett Marden
To Your Persistence!
Harish S Kawalkar
PS: Don't miss, reading success letter, be ready to learn new things and become more successful in life. Sign up! For "The Success Letter" http://eepurl.com/E2poT (It's Free)