The major block of Success – Complaining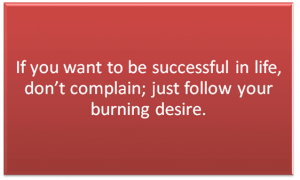 I find lot of people complaining about something for whole life. Complaining has no result. Complainer changes their complaints, but they never reduce the number of complaints. If you have increasing number of complaint about your life, you will become failure.
Complaining is a habit, it's a negative habit. If you have this habit, then you are a victim of failure. Complaining leads to negative mindset and negative mind set leads to inactivity and inactivity results into failure.
Remember don't complain about anything in life. Complaining is a bad habit. People become unsuccessful in life because they complain about everything. If you are a complainer, your attitude become negative, and you see everything in negative perspective.
Complaining ruins your time, and time is valuable asset, you will become what you think? If you know how to invest and use your time? Successful people use time and invest their valuable time in most productive area. Remember, everybody has problems, but instead of solving problem, unsuccessful people complain about problem, there is nothing free in life; you have to pay the price. Your price may be hard work, honesty, passion, values, dreams, etc.
Complaining Effects:
No Future:
If you waste your present with complaining, you don't have future. Future is a result of your present actions. In complaining there is no action. So if you are complaining next time, remember about your future.
You can't solve the problem:
If you are a complainer you never solve any problem. You don't think to solve the problem; your thinking has a habit of complaining. You don't have any idea, or you never try to do something. Problem solving is a skill, but you have to be ready to solve the problem, and complaining will never become you ready. Successful people solve the problem. You must become problem solver in life. Complainer becomes problem creator.
You can't handle situation:
You are unable to handle situation if you complaint a lot. Don't criticize in life, be grateful to life. If you have a habit of complaining, you can't handle the situation. Remember situation never last, but you have to be patience in bad times. You will face any situation if you have patience.
You become Non Productive:
You will become non productive. And productivity is a result of successful people you can't get results if you complain. I suggest you, don't complain, if you want to complain, be calm, and
do something, and don't think about that problem, because doing get results and complaining gets nothing, so it's better to get results
How to overcome?
There is no rule to overcome the complaining habit. It's a habit, you have to change that habit, it's a slow process, but if you commit yourself to not complain, you will change that habit. So following are the basic point to change your complaining habits.

Relax:
Relax, relax and relax!!!!  There is no other way. Relax calm down, don't panic. Give some time to yourself, think about problem, and try to solve it. Listen music. Does whatever to become relax.
Re engineered:
I suggest you, Complaint has no existence in real life, there are problems, and you have to solve those problems. Remember complaints are situated in your mind. Stay focus on your action, and solve the problem. Re engineered yourself for better life.   
Patience:
Don't Criticize:
Don't criticize about anything. Don't criticize anybody in life. Be happy with life. When you are criticizing someone you are focusing on negative side of that people, so don't criticize.
Be focus:
Lack of focus, leads to complaining. Be focus on your problems. Focus on your plan to achieve your goal.
Life is so much precious, don't waste in unnecessary things.
Before complaining next time, remember you are focusing on negative side.
"If you want to be successful in life, don't complain; just follow your burning desire"
To Your Solution,
Harish S. Kawalkar
PS: Don't miss, reading success letter, be ready to learn new things and become more successful in life. Sign up! For "The Success Letter" http://eepurl.com/E2poT (It's Free)
Copyright © 2013 All rights reserved